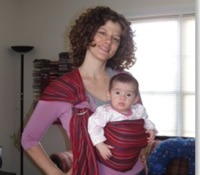 Sivan is a native of Israel. She came to midwifery through the midwife-attended birth of her daughter Nina. She was filled with awe and inspiration and wanted to pass on this experience to other women.
She has a BA in liberal arts and French from Tel Aviv University, and a Master's in Women's Studies from Southern Connecticut State University. She received a Master's degree and her midwifery education from Yale University. She is fluent in Hebrew, highly functional in French, and working on her Spanish.
Sivan has worked as a hospital based doula (labor support person) for a few years, and as a nurse at a birth center in Danbury, CT. She is a member of the American College of Nurse-Midwives, the New Haven Obstetrical Society, and DONA Intl. She is happy to serve the New Haven Community again.